---
Making Their Mark
And the Grammy Goes to …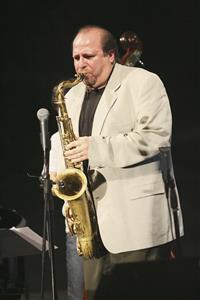 MDC Professor Dr. Eduardo Calle recently won Best Instrumental Album at the 16th Annual Latin Grammy Awards.
In the fall, MDC Professor Dr. Eduardo Calle won Best Instrumental Album for Dr. Ed Calle Presents Mamblue during the 16th Annual Latin Grammy Awards.
A renowned musician, composer, orchestrator, scholar, professor and leader, Calle is one of the most recorded saxophonists in history appearing on more than 1,200 albums, almost 9,000 singles, and countless television and movie soundtracks with artists ranging from Frank Sinatra, Celia Cruz, Juan Luis Guerra and Arturo Sandoval to Carlos Santana, Gloria Estefan, Elton John, the Bee Gees, Willy Chirino, Julio Iglesias and Shakira, just to name a few.
Born in Caracas, Venezuela, Calle immigrated to the U.S. with his family in 1968 and grew up in Miami. Besides being an internationally acclaimed jazz performer, composer and arranger, Calle is in great demand as a jazz clinician and enjoys working with students. He has served as MDC's North Campus chair of the Arts and Philosophy Department and currently is a tenured full professor of music business and production at MDC.
More Making Their Mark Articles