---
Powerful Partnerships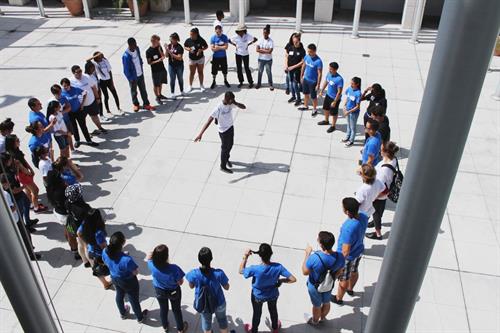 A Slam Dunk for Peace
This fall, MDC's InterAmerican Campus hosted the first-ever PeaceJam Slam Youth Leadership Conference in South Florida, a year-long international educational program for youth based on curriculum developed in direct collaboration with Nobel Peace laureates, including the Dalai Lama, Rigoberta Menchú Tum, Archbishop Desmond Tutu and Leymah Gbowee.
Led by the Children's Trust and co-facilitated by MDC students serving as mentors to local high school students, PeaceJam fosters optimism while inspiring students to find solutions to some of the world's most pressing challenges. Through team-building activities and service-learning projects, PeaceJam encourages students to think globally and act locally.
"Thanks to the PeaceJam training, our MDC mentoring group was able to create a trusting environment that helped students open up and discuss difficult, controversial topics," said MDC Honors College student Leandro Dorta.
PeaceJam programs encourage young people to work as allies to establish new paths toward justice, sustainability and peace. Framing PeaceJam's efforts is the One Billion Acts of Peace campaign, which aims to complete one billion acts of peace by 2019 to address 10 issues at the core of much of the world's suffering, including access to water and natural resources; the advancement of women and children; education and community development; global health and wellness; environmental sustainability; conflict resolution; human rights; and the alleviation of extreme poverty.
"We were very excited to host this high-energy, inspirational event," said InterAmerican Campus President Dr. Joanne Bashford. "We plan to repeat the PeaceJam Slam experience again next year with a new group of students."
Learn more about this worldwide initiative, check out the website at www.peacejam.org.
More Powerful Partnerships Articles