---
Cultural Spotlight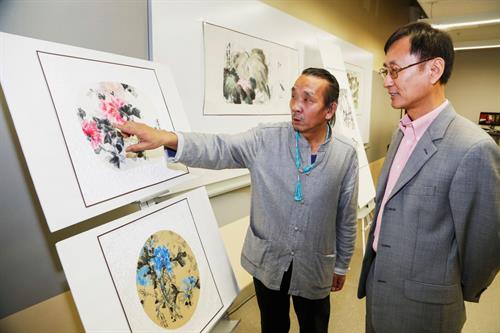 An Artful Demonstration
The Confucius Institute at Miami Dade College celebrated the Chinese New Year with an exciting variety of cultural and educational events throughout the month of February.
The festivities kicked off with an exhibit of traditional Chinese paintings by Jiakuan Luo, presented with The Idea Center at MDC.
Born into a family of artists in southwest China, Luo has been showcasing his artwork since he was a teenager. His works have been collected by Chinese national museums and many international art institutions.
His visit to MDC marked the first exhibition of his work in the eastern United States. At the exhibition's opening, enthusiastic community leaders, local artists and students were on hand to view Luo's paintings and listen to a lecture he provided, followed by a special on-site painting demonstration.
"This event was a great opportunity for our students to experience Chinese/Asian culture and art firsthand, interact with a top Chinese artist on a personal level and develop a deeper understanding of Chinese/Asian culture and people," said Confucius Institute Director Dr. Jim Yu. "The exhibition and lecture by Luo enhanced global cross-cultural learning at MDC and in South Florida."
— NN
More Cultural Spotlight Articles