---
Features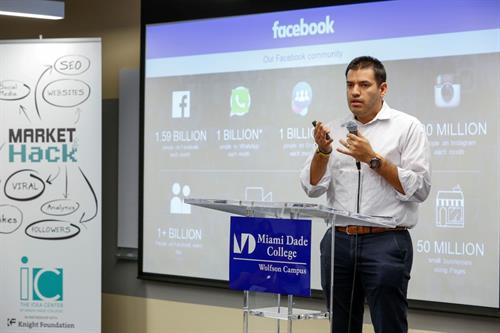 Facebook Lends Insights to MarketHack Program
MDC's MarketHack program continues to tap into leading companies and experts as part of this 16-week digital marketing cohort at The Idea Center.
After drawing on the knowledge of NBCUniversal Chairman César Conde earlier this year, The Idea Center recently welcomed Christian Pretelt, a client partner for Latin America in Facebook's Miami office.
As part of the presentation for a standing-room-only crowd, Pretelt expounded on the future of Facebook and shared key social media strategies to help build successful marketing campaigns and generate growth.
MarketHack students also had the opportunity to ask more specific questions, examine real-life case studies and learn about additional tools in an intimate roundtable session that followed the public event.
"We are providing MDC students with unprecedented access to industry leaders," said MarketHack Lead Instructor Dan Grech. "From this event, we already are talking about new partnerships with Facebook."
— AMS
More Features Articles