---
MDC News Bytes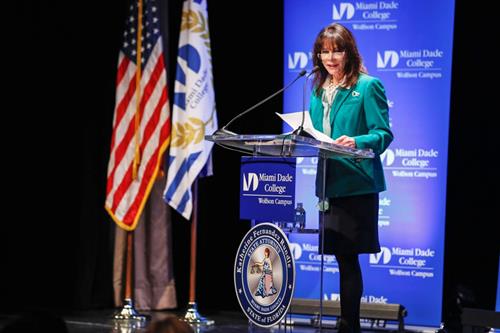 Leading the Charge
MDC alumna Katherine Fernández Rundle is helping fight against human trafficking – a growing international issue that impacts South Florida.
As the state attorney for the 11th Judicial Circuit of Florida, Fernández Rundle has made strengthening laws against human trafficking a top legislative priority, including creating a special task force of federal and state law enforcement agents to investigate human trafficking crimes.
Fernández Rundle earlier this spring served as the keynote speaker at the fifth annual Human Trafficking Forum, hosted at MDC's Wolfson Campus. The event convened stakeholders, service providers, victims' advocates, lawmakers, educators, medical professionals, community leaders, law enforcement and the judiciary to discuss innovative strategies to tackle the issue.
"The reasons we are all here today is because of the collaboration we have in this community," she told audience members, many of whom were fellow MDC alumni.
She highlighted sobering statistics about human trafficking worldwide and discussed what the South Florida community has done to help abate the problem locally, including greater community awareness, passing tougher laws on perpetrators, and providing safe harbor for victims.
— AMS
More MDC News Bytes Articles