---
Powerful Partnerships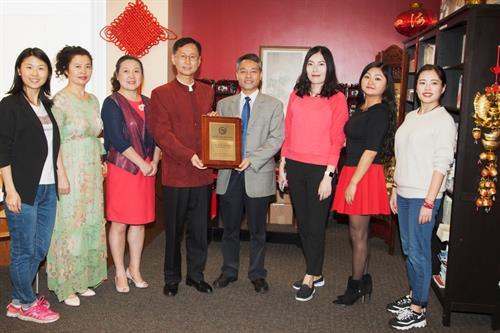 Cultural Exchange Translates Into Academic Success
Miami Dade College regularly attracts esteemed faculty from across the globe, giving MDC students the unique opportunity to receive valuable instruction and mentorship with an international perspective. Through its Chinese Language Teacher Program, MDC's Confucius Institute has hosted faculty members from Jiangsu Normal University in China since 2010.
In the early days of the program, just two professors visited MDC and worked directly with students to enhance their Chinese-language skills. The program's success led to additional faculty members taking part in the program starting in 2013, rising to a total of seven professors in place at MDC by 2015.
A major highlight for the visiting faculty was the important role they played in the accomplishments of MDC students who competed in the Florida International Chinese Speech and Skit Contest. Under the faculty's expert tutelage, MDC earned three first place awards at the most recent competition in March 2015.  
In addition to preparing students for competition, during their time at MDC the visiting faculty members teach credit courses in elementary and intermediate Chinese as well as noncredit Chinese language and culture courses. They also organize weekly activities as part of Chinese culture clubs at Wolfson, Kendall, North and Hialeah campuses.
"The Chinese faculty participate in campus academic, student and cultural activities and become important contributors to MDC's learning community," said Confucius Institute Director Dr. Jim Yu.
— NN
More Powerful Partnerships Articles