---
Academics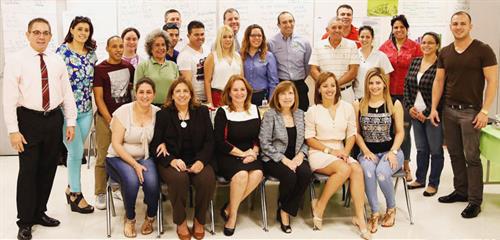 Service With a Smile
As a top international tourism and business hub, Miami is a shoppers' paradise. So it makes perfect sense that Miami Dade College was chosen for an exciting new project to train the nation's diverse workforce.
Partnering with the National Immigration Forum and the Community College Consortium for Immigrant Education, MDC's School of Continuing Education and Professional Development is increasing the English-language proficiency of retail workers for whom English is a second language. The new initiative – called "Skills and Opportunity for the New American Workforce" – is generously supported by a $1.2 million grant from The Walmart Foundation, which notes that the U.S. retail sector has about 1.5 million workers with limited skills in English.
This project is one of the first to specifically target the retail sector, and the goal is to improve the quality of work offered by employees as well as to create a better pathway to career advancement.
For this project, MDC was selected to write the curriculum, create the online platform and conduct a pilot session this spring. Following that suc-cess, with the first class graduating on March 16, another 29 sessions were launched in April, training more than 200 participants in Miami and similar numbers in New York and Houston.
Initial business partners include Publix in Miami, Whole Foods in New York and Kroger in Houston.
"It's an honor to partner with such forward-thinking and compassionate organizations and to be able to make a difference in an area where so much impact can be made," MDC President Dr. Eduardo J. Padrón said. "As an immigrant, I know the importance of learning English in order to achieve the American Dream.
"We are proud to continue offering real and innovative solutions to our nation's workforce challenges."
— WV
More Academics Articles