---
Cultural Spotlight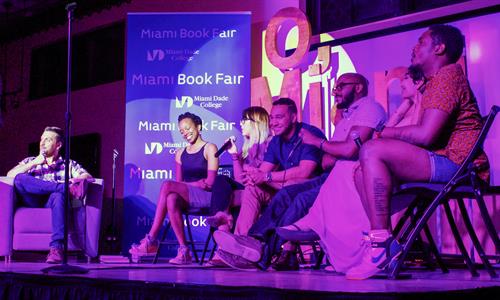 Poets Take to the Airwaves
MDC's renowned Miami Book Fair (MBF) recently presented the Working Poet Radio Show (WPRS), a live-recorded, late-night-style talk show dedicated to the working lives of creative people.
For National Poetry Month, WPRS featured The Dark Noise Collective, a national award-winning, multiracial, multi-genre collective featuring some of the most exciting, insightful and powerful poets writing today, including Fatimah Asghar, Franny Choi, Nate Marshall, Aaron Samuels, Danez Smith and Jamila Woods. These poets, diverse in content and form, find common ground in their commitment to using art as a means of radical truth-telling. They explore themes of identity, intersectionality, trauma and healing in accessible forms without sacrificing the highest standards of poetic craft.
Dark Noise explodes archaic notions of page versus stage with their dynamism in all arenas of verse. Dark Noise poets have been featured in film and TV projects including HBO's Brave New Voices, TV One's Verses and Flow and Louder Than a Bomb. They have been featured at venues across three continents, including Madison Square Garden, Sweden's National Poetry Slam, Sanaa Africa Festival and The Apollo Theater.
Co-presented with O, Miami Poetry Festival, the Working Poet Radio Show was hosted by author and journalist Joseph Lapin.
More Cultural Spotlight Articles