---
Academics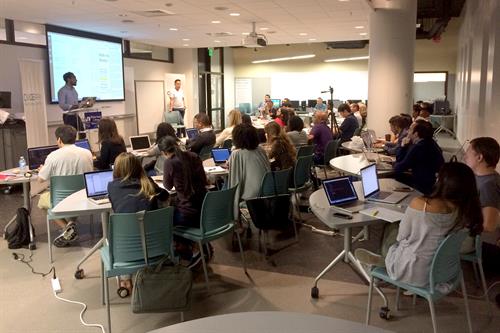 Building World-Class Web Skills
Endeavoring to create pathways to in-demand jobs, The Idea Center has launched a new program to help train students in web development.
The eight-week WebDev program instills the technical and design skills to build websites and landing pages from scratch and launch a career in web development, whether working as a freelancer or seeking a job at any number of companies in search of these valuable professional and creative skills. Data from the U.S. Department of Labor shows the field of web development is growing much faster than average, with job growth projected at 27 percent through the year 2024.
"There is a huge need in the job market for people with these skills, both in South Florida and beyond, and that's where the idea for this program originated," said Program Manager Gerardo Bonell. "WebDev is a win-win in that it makes people immediately employable because they have these highly sought-after skills, and it's also helping to fill a gap in the local workforce."
The eight-week program, which is open to the public, offers an affordable conduit to certification via its twice-weekly classes thanks to support from Miami's Beacon Council. The first cohort of 30 students graduates this month, and the next session will kick off Oct. 10.
— AMS
More Academics Articles