---
Academics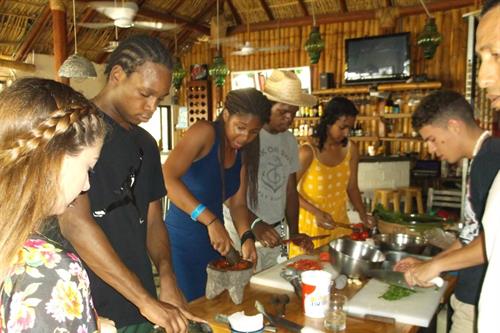 Lending a Hand in Mexico
Half a dozen MDC students traveled to Mexico earlier this year on a weeklong program that galvanized their interest in public service and environmental sustainability.

The service-learning trip was part of the Eco-Tourism & Sustainability Program led by MDC Psychology Professor Dr. Ginny Peterson-Tennant and co-sponsored by MDC's Earth
Ethics Institute. The group traveled to the town of Huatulco in the state of Oaxaca and stayed at a family-owned sustainable inn. Although Oaxaca is one Mexico's poorest economic regions, it is rich in biodiversity and culture.
"The flora and fauna in Oaxaca are incredible," said Peterson-Tennant. "Among the cultural treasures are works by the Zapotecs indigenous to the area, who have traditions of pottery, weaving and other arts extending back for generations."
One of the group's first service activities was restoring a barrier built to stop erosion threatening to sweep away Huatulco's one-room schoolhouse. The tiny cinder-block structure with a tin roof serves both as a classroom to 20 children ages 6-13 and as a residence for their teacher.
"Parents of the school's children erected a 7-foot wall of recycled tires affixed with a cement-like mixture," said Peterson-Tennant. The MDC students planted long-rooted grass into the wall's tires and set up an irrigation system. "The parents were very grateful for our help, which saved them five days of labor, and they were impressed by the quality of our students' work."
Another service day involved a cleanup of the beachfront at Barra de la Cruz, a nesting ground for three species of sea turtles, including the critically endangered leatherback turtle. Along the way, program participants harvested ingredients for their own lunch from their host's organic farm.
Ecotourism is a major economic driver in the region, and managing the balance between development and the environment is vital to area residents. Experts from local environmental groups and Huatulco National Park described plans to preserve ecologically rich forests and beaches while creating environmentally friendly tourist sites. One such development, the Barceló Huatulco Beach Resort, received platinum certification, the highest, from EarthCheck, a global benchmarking organization that evaluates sustainability for the tourism industry.
"The students didn't want to leave, and many plan to come back," said Peterson-Tennant.
Some already have applied what they learned to their lives in Miami. Samantha Blain-Maiza created a butterfly garden with the help of children she teaches at work.
"Sustainability doesn't have to be large scale," said Steven Osorio. "I plan to use aquaponics for a sustainable garden, and I want to investigate living in tiny homes, which is more sustainable."
"There are a plethora of opportunities to help the planet," said Priya Pershadsingh. "You just have to be open-minded."
More Academics Articles