---
Features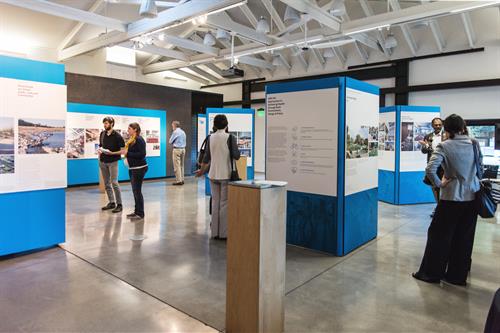 A Healthier Approach to City Life
West Campus recently featured an exhibition designed to improve city life in Miami by encouraging people to get moving and architects to incorporate into their designs new ways to promote active transportation, recreation, building use and access to healthy foods.
The interactive display was a collaborative effort of MDC's Learning Resources staff, program professionals in the College's Earth Ethics Institute (EEI) and the Miami Center for Architecture & Design (MCAD), which is working on innovative outreach programs for its Active Design Miami project funded by the Florida Department of Health and the Centers for Disease Control.
The 15-piece MDC exhibition highlights projects exemplifying the best in architectural and conceptual creativity along with policy-driven, grassroots action that contribute to a healthier lifestyle.
"This exhibit has been very well received by students and community members," said Dr. Sara Alegría, West Campus associate director of Learning Resources. "I regularly see people pausing to take in all the information, then often turning to someone they might not even know to strike up a conversation about what they have learned. Everyone is impressed with the examples of real-life changemaking in action."
MDC's clever take on the subject built on guidelines created in New York almost 10 years ago through a broad collaboration of the New York Department of Health, the American Institute of Architects New York Chapter and numerous other agencies and organizations. Insights from that New York think-tank were first presented at MDC in 2014 during a two-day EEI conference of more than 200 architects, urban planners and health professionals who convened at Wolfson Campus for continuing education learning. To read more about that community-building event and the cutting-edge design of Building 8 at Wolfson Campus, which uses creative design to encourage increased activity, see tinyurl.com/FitCityEEI.
"Information is its own kind of art. Promoting the FitNation movement taking place in Miami, New York City and other places in the world is a way that we can start our own movement for our unique corner of society."
Andres Mota, 20, computer science student

"The exhibition is a great representation of what Miami Dade College stands for: unity, opportunity, community involvement and innovation that can help grow our new world."
Gisselle Martínez, 26, international business and finance student

"By studying the architectural structures in this exhibition, I feel the accomplishment of humankind and where we are right now. If we can envision change in our minds, we can then create it."
Guillermo Binder, 21, economics student

"I think the projects shown in this exhibition are a very creative, effective way of implementing change. They prove that small changes add up to a big impact over time. This is exactly what my professors talk about in my classes."
Ana Lugo, 24, fashion merchandising student
You Can Still Catch the Show
The FitCity exhibition at West Campus hits the road this fall.
See it at InterAmerican Campus in September and other campuses later.
To learn more, see earthethicsinstitute.org.
— BK
More Features Articles