---
Features
Local Service Gives a Global Perspective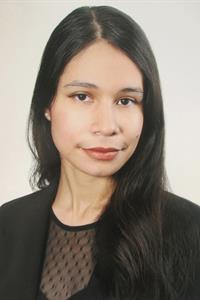 Luiza Kinzerska-Martínez's dedication to helping others led to her receiving the President's Volunteer Service Award. She plans to turn that experience and passion for service into a full-time career by working one day for a nonprofit organization.
Luiza Kinzerska-Martínez has always had a compassionate spirit, but it wasn't until she arrived at MDC's Honors College that she began to refine her idea of exactly how she wants to help others.
The 20-year-old, who maintained a perfect 4.0 GPA while studying international relations at Wolfson Campus, credits MDC with sharpening her world view, which she is now putting to good use in her studies at the University of Southern California.
"Before MDC, I thought community service was something you did on the side," she said. "But my MDC experiences helped me realize it's something you can make your career and do for the rest of your life. It's my everyday mission."
At one point, Kinzerska-Martínez wanted to study biology and become a doctor. But now she's thinking about ultimately working for a nonprofit organization such as Greenpeace, the World Wildlife Fund or the United Nations Environment Program.
"I volunteered for the Environmental Coalition of Miami and the Beaches (ECOMB) during my first semester, and I'm still with them," she said. "I found my passion."
At ECOMB, she helped find financial backing by writing grant proposals. At MDC, she helped her peers conceptualize sea-level rise by installing demonstrations as part of the Holoscenes performances last fall by acclaimed arts visionary and TED Senior Fellow Lars Jan, whose work garnered praise from The New York Times.
Besides the environmental work, she also has volunteered at Miami Rescue Mission, where she organized collection drives of clothes and other personal products and led self-esteem workshops for women and children.
That devotion to service helped her win the President's Volunteer Service Award and be nominated to the All-USA Academic Team. It also led to her receiving the MDC Board of Trustees Scholarship at Wolfson Campus' commencement this past spring.
In her service work, Kinzerska-Martínez naturally brings a global perspective to all she does thanks to her upbringing. Her father was born and raised in Nicaragua, and her mother was born and raised in the Ukraine. They met while in college in Ukraine's capital city of Kiev.
Through MDC's Honors College, Kinzerska-Martínez got to experience the world herself when she took her first plane ride, traveling to Germany and Austria as part of the Salzburg Global Seminar.
Kinzerska-Martínez, who is fluent in English, Russian and Spanish, hopes Salzburg was the first of many international adventures for her.
"My lifelong goal is to continue learning the needs of my global community," she said.
"MDC has been a transformative experience for me. It has really clarified a lot of things for me. I plan to leave a positive impact on the world with the knowledge I've gained at MDC."
More Features Articles