---
Making Their Mark
Earning High Praise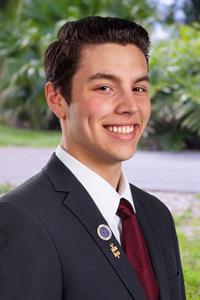 North Campus Honors College graduate Alejandro Silva is ready to excel at the University of Southern California.
The very thought of Miami Dade College and what his MDC education has already done for him gives Alejandro Silva chills.
"It prepared me for the world," Silva said, adding that it felt like he was among family from the moment he stepped on campus.
Now, at age 20, Silva is prepared for the next step. After completing an associate degree with a focus in mass communications at North Campus' Honors College, Silva is set to attend the University of Southern California (USC).
A 4.0 student, he earned the Chancellor's Clark Maxwell Scholar Student of the Month award for July. The award honors outstanding students in the Florida College System who demonstrate leadership, academic success and commitment to community service.
"Miami Dade College taught me how to make connections so others can join me for a great cause," said Silva, a Hialeah native who plans to do a double major in business and public relations at USC. "My dream is to help others find their dreams.
"Whatever goal you have in your mind, you can accomplish it if you learn to execute it, which is why you need to know something about marketing."
Silva, who is of Cuban descent, speaks English, French and Spanish. He plans on creating his own marketing firm, establishing a clothing line and becoming a successful entrepreneur.
"I'm a big dreamer," Silva said. "And MDC is where I learned to dream even bigger."
— WV
More Making Their Mark Articles