---
Powerful Partnerships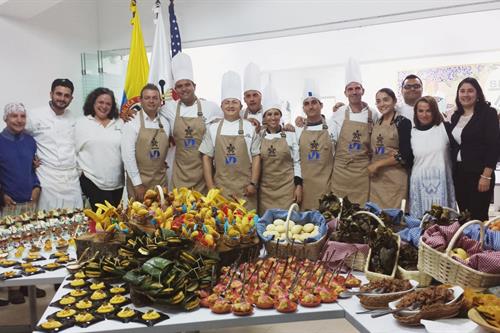 Cooking Up Opportunity
An exciting cultural exchange recently took place between Miami Dade College and Centro de Comercio y Turismo (CCT) in Armenia, Colombia, as part of President Barack Obama's 100,000 Strong in the Americas Initiative grant.
Designed to foster prosperity throughout the region through greater international exchange of students in the Western Hemisphere, the grant enabled students from the culinary and hospitality programs at both institutions to train for one week in Colombia and one week in Miami.
A Rich Exchange of Ideas
In April, MDC students went to Colombia, touring the National Coffee Park and the nearby towns of Salento and Finlandia. They learned ancestral cooking techniques and various lodging models used in Latin America.
Later in May, students from Colombia visited Florida and attended courses at MDC's Miami Culinary Institute to learn about organic and modern cooking techniques, brewing and distilling, cultural tourism and trends in hospitality management.
In addition to the academic components, the Colombian students engaged in enriching cultural programming that included visits to Schnebly Redland's Winery, local hotels, Little Havana and Biscayne Bay. In addition, they toured Tuyo, the award-winning restaurant serving as the crown jewel of MDC's Wolfson Campus that is regularly named among Open Table's Top 10 Diner's Choice Winners.
Joining Forces
Both CCT and MDC exchanged ideas on customized training in tourism entrepreneurship, allowing the students to develop a business model for a potential U.S.-Colombian collaborative venture in the hospitality industry.
Now that the official exchange is complete, the students plan to continue working together electronically to advance the business model while the two institutions conduct joint classes through interactive webinars.
The overall goal of the exchange is to provide students with the knowledge and skills essential for success in their local tourism industry and introduce them to entrepreneurial skills necessary for building their own businesses both at home and abroad.
— NN
More Powerful Partnerships Articles