---
Academics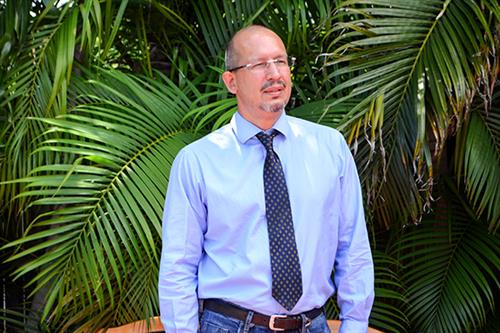 For the Love of STEM
Students looking for ideas on how to lead a well-rounded life have the perfect example in MDC physics professor Eduardo Araujo-Pradere.
A black belt in shotokan karate and certified scuba diver, Araujo-Pradere combines his love of sports with a passion for reading, consuming two or three books a week for pleasure, in any of three languages – English, Spanish or French.
"I don't see that as anything extraordinary," he said. "I see it as part of the fun of life." Among his favorites are historical novels and biographies. While the bibliophile's life has already been incredibly full, his work at MDC has only just begun when he joined the faculty at Homestead Campus this fall.
A native of Cuba, Araujo-Pradere earned several degrees there, where he majored in astronomy, electrical engineering and physics. He then went to Mexico, earning both a master's and a Ph.D. in physics.
Araujo-Pradere, whose findings have appeared in more than 150 publications, spent 17 years working at the University of Colorado, rising to the level of senior research scientist.
After his wife, Aymara, was diagnosed with a serious illness in 2012, Araujo-Pradere resigned, and the family moved to Florida. Now that she is in full remission, he is back in the classroom, inspiring students just as he has done for years.
"I use all my reading to allow me avenues to connect with my students," Araujo-Pradere said. "I want them to know the pleasure of knowing more." 
Araujo-Pradere said his primary goal at MDC is helping students improve in the STEM fields of science, technology, engineering and math.
"There is a crisis in America with the lack of a STEM-trained workforce, and it's even worse among minorities," he said. "I want to improve the ratio of minorities who are represented in STEM-related careers."
More Academics Articles