---
Academics
Brain Discoveries Expand Curriculum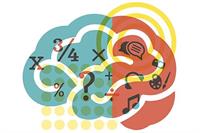 MDC School of Education initiatives are expanding opportunities for students across disciplines.
The MDC School of Education recently launched two initiatives that will expand opportunities for students and broaden teacher training and recertification options.

The first program is a new online certification in instructional design for baccalaureate degree holders who would like to develop curricula and training in a variety of disciplines. The program will instruct participants on how to work with experts in any field to create targeted training programs for that discipline.
"For example, in the health care field, students would need to be instructed about particular products or procedures specific to health care," said Dr. Susan Neimand, director of Miami Dade College's School of Education. "The instructional designer takes the substantive information on the topic provided by the expert and creates a model to train future students in that area."
The certificate will empower holders to work across disciplines and increases their job opportunities.
The second initiative brings the latest developments in neuroscience into teacher recertification training, continuing coursework required for working teachers to maintain their certificates. The series of courses will focus on how the brain reads and dyslexia, the brain and mathematics, the exceptional brain and the bilingual brain.
Since 2012, MDC's School of Education has infused its curricula and professional development with neuroscience and has brought in scientists of renown to help.
"Dr. David Sousa, an international consultant in education neuroscience, has approved the work we are doing," Neimand said. "These perspectives can help teachers identify and remedy learning anomalies. With the recertification courses, we can now bring these cutting-edge ideas to more teachers."
More Academics Articles