---
Powerful Partnerships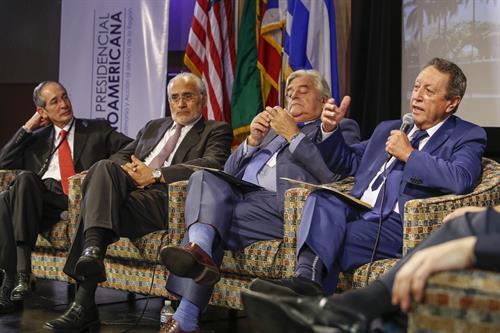 Dignitaries Convene at MDC
This fall MDC's North Campus worked in collaboration with the Global Peace Foundation to host a two-day International Affairs Symposium. The event, which was free and open to the public, covered the gamut of current global affairs with topics ranging from Brexit to the relationships between the United States, Cuba and other Latin American countries.
"The Symposium focused on both Europe and Latin America, major players in our global economy," said North Campus President Dr. Malou C. Harrison.  "Our students gained a deeper understanding of important world affairs from the leaders' engaging sharing of relevant experiences and perspectives."
The International Affairs Symposium brought together international dignitaries, field experts and academicians to discuss current international developments. Among the impressive roster of speakers were former Uruguayan President Dr. Luis Alberto LaCalle; former Guatemalan Presidents Dr. Marco Vinicio Cerezo Arévalo and Dr. Alvaro Colom; and former Bolivian President Dr. Carlos Diego Mesa Gisbert and the Honorable David Prodger, Consul General of Great Britain in Miami.
More Powerful Partnerships Articles