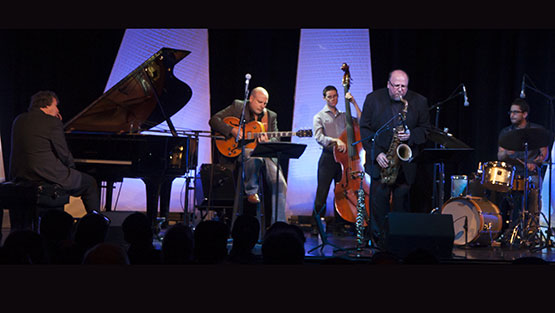 MDC Jazz Faculty Quintet
Jazz Quintet
Wednesday, Sep. 21, 2016, Noon
Wolfson Campus Auditorium
300 N.E. Second Ave., Miami, FL 33132
Building 1, Room 1261
A mainstay of Jazz at Wolfson Presents, the MDC Jazz Faculty Quintet features some of South Florida's finest musicians, including Latin Grammy award-winning saxophonist Ed Calle, guitarist Mike Di Liddo, pianist Jim Gasior, bassist Gary Thomas and drummer Rodolfo Zúñiga.
Their diverse individual musical backgrounds combine during their performances together to offer a unique blending of styles. The quintet's performances often highlight some of jazz's historic compositions as well as featuring some of their own works.
In addition to their teaching responsibilities at Miami Dade College, these musicians are active in the jazz community, performing at various venues on a variety of stages throughout South Florida, the United States and the world.