A partnership to help prepare Vision Care students with essential knowledge and skills.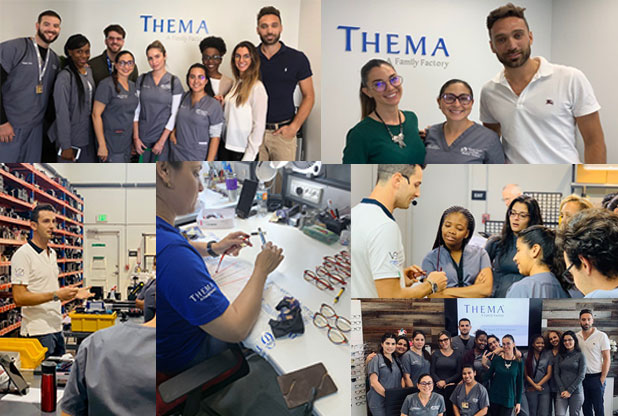 Miami Dade College Vision Care Technology and Opticianry program students with Giulia Valmassoi, chief executive officer of Thema Optical's North America branch and Oscar Bettello, COO for Thema Optical's North American branch.
Miami Dade College Vision Care/Opticianry program has partnered with Thema Optical to help prepare students with the knowledge and skills required to venture out in vision care careers after graduation. The educational program combines general information with career development, work experience, and manufacturing.  Thema Optical provides students with an inside look at how frames are made to ensure that new students are exposed to the manufacturing side of the optical industry, another aspect of vision care. For the past two years, we have been working together to ensure students understand the diverse opportunities that the industry brings.  The students need to know that without frames, there are no glasses.  The "Art" of making frames has been lost as a result of too much outsourcing to other parts of the world.  We are extremely grateful to have Thema in our city. 
Giulia Valmassoi, chief executive officer of Thema Optical's North America branch said, "It is an honor to partner with Miami Dade College and to open our facility to students who are as passionate about eyewear as we are. The future of the optical industry is bright and it is because of programs like this."