STEM OASIS Science, Technology, Engineering, and Math - Organized Approaches for Success in Science
What is STEM OASIS?
MDC's STEM OASIS Program at Eduardo J. Padrón Campus supports students pursuing studies in science, technology, engineering and mathematics through:
Dedicated Advising
Cohort experience
Inquiry-Based STEM Courses
Peer-Led Team Learning (PLTL)/Peer Tutoring
Stipend Research Opportunities
Career-Related Lectures/Field Trips
Paid Peer-Leader Positions
STEM Faculty mentors
STEM Community engagement
Departmental Recommendations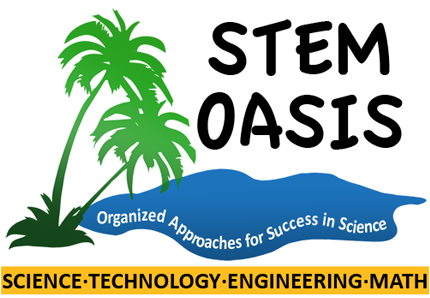 Why Are STEM Careers So Important?

Majoring in a STEM field opens up a world of possibilities. In our energy- and technology-dependent global economy, STEM careers are among the fastest-growing and best-paying jobs.
STEM professionals develop innovations that improve our lives in many ways. In addition, their expertise is essential to the success of our nation, which relies on advancements in energy efficiency and water conservation for building a brighter future.
Average Starting Salaries for STEM Fields
| | |
| --- | --- |
| Chemical Engineering | $66,886 |
| Computer Science | $63,017 |
| Mechanical Engineering | $60,739 |
| Electrical Engineering | $60,646 |
| Computer Engineering | $60,112 |
| Industrial/Manufacturing Engineering | $58,549 |
| Systems Engineering | $57,497 |
| Engineering Technology | $57,176 |
| Information Sciences & Systems | $56,868 |
| Business Systems Networking/Telecommunications | $56,808 |
| Nursing | $55,774 |
| Mathematics | $55,300 |
Source: CareerBuilder.com
STEM Majors at MDC
MDC students interested in STEM careers can pursue bachelor's degrees in Biological Sciences or Electronics Engineering Technology as well as associate degrees in numerous other areas, including:
Agriculture
Architectural Engineering
Architecture
Atmospheric Science + Meteorology
Biology
Biotechnology
Chemistry
Chemical Engineering
Civil Engineering
Computer Engineering
Computer Information Systems
Computer Science
Engineering
Environmental Studies
Forestry
Geology
Geomatics Engineering
Industrial Engineering
Ocean Engineering
Physics
Pre-Medical Science
Psychology
Miami Dade College
Eduardo J. Padrón Campus
STEM OASIS
Science, Technology, Engineering and Mathematics Organized Approaches for Success in Science Program
---
Program Director: Zhiqi Zhang, Ph.D.
Funded by the U.S. Department of Education
Award No: P120A110020
---