Campus Information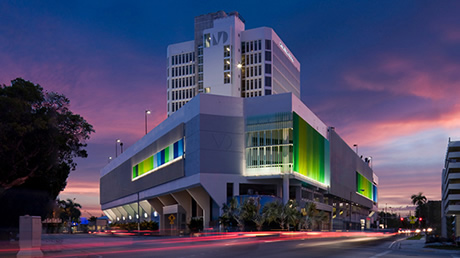 Origins
The seed for InterAmerican Campus (now Padrón Campus) was planted in 1972 when the College offered two night-courses at the Belen Jesuit Prep School. Sixty students enrolled. By 1979, the program had blossomed into the Wolfson Campus' Division of Bilingual Studies, enrolling 2,000 students.
Fast Growth
In the early 1980s, an influx of students from Latin America and the Caribbean led to the addition of day classes and full-time faculty. By 1986, the division had grown to "center" designation, and it moved into a building in Little Havana purchased by the College Foundation.
InterAmerican Center became the largest bilingual learning environment in all of higher education. When enrollment reached 5,500, the College District Board of Trustees petitioned the state of Florida for "campus" status. The request was approved and on March 27, 2001, InterAmerican Campus was born, becoming the sixth campus of Miami Dade College.
Unique Programs
Today, Padrón Campus offers students over 200 degree and certificate programs, including an A.S. in Translation and Interpretation studies, certificate programs in Early Childhood Education, and a B.A.S. in Supervision and Management. It is also home to the dual-language Honors College, and the School of Education, which offers bachelor's degree programs in Early Childhood Education, Secondary Mathematics Education, Exceptional Student Education, and Secondary Science Education in the areas of Biology, Chemistry, Physics and Earth/Space Science.