Campus Information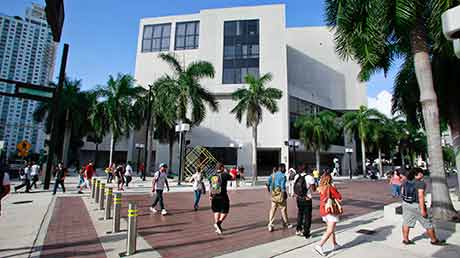 A College Experience with a 'Magic City' Flair
The Wolfson Campus of Miami Dade College opened in 1970 holding classes in storefronts in downtown Miami. Since then, it has played an integral part in the development of the metropolitan skyline. As the only comprehensive urban campus in the City of Miami, it provides a fully accredited, high-quality education to over 27,000 students each year.
Easily accessible by public transportation, the Wolfson Campus extends students a unique opportunity to enjoy the many cultural centers and exciting attractions that make Miami the "Magic City."
Location Meets Innovation
The Wolfson Campus utilizes state-of-the-art technology and innovative approaches to teaching throughout its curriculum. It capitalizes on being at the center of downtown Miami's financial, government, and cultural hubs by offering programs in banking, business, microcomputers, paralegal studies, architecture, economics, hospitality management, engineering, the arts and humanities, and the social sciences.
Unique Programs
The Campus is also home to The Center for Literature, Miami International Film Festival, the Earth Ethics Institute, The Honors College, New World School of the Arts, MDC Online, Institute for Civic Engagement & Democracy, and the Freedom Tower. A rich array of student life activities and social and cultural events complement the educational experience at the Wolfson Campus.