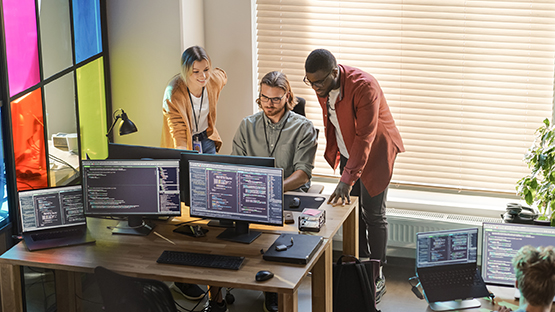 Program Overview
The rapid adoption of Artificial Intelligence (AI) technologies is fueling a transformative wave across various industries, from healthcare and finance to transportation and entertainment. This shift is attributed to the practical applications of AI, such as intelligent virtual assistants and predictive analytics, which are now widely employed to improve efficiency, streamline business processes and offer enhanced customer experiences.
The Associate in Science in Applied Artificial Intelligence is a comprehensive program that provides you with the knowledge and skills required to effectively maintain AI systems. You will learn the lifecycle of an AI project, from conception to deployment, while taking ethical considerations into account throughout the planning and development process. You will receive hands-on learning opportunities to help you build a strong foundation in machine learning, data collection, classification, natural language processing, AI virtual assistants and techniques used in AI for computer vision.
Quick Program Highlights
High Employment Rate

Artificial intelligence is expected to change the future of work with many experts predicting it to contribute to the fourth industrial revolution. The AS program is ideal for individuals looking to enter or advance their career as AI Developers or AI Specialists.

Stack Credentials and Earn Additional Degrees

You may acquire the College Credit Certificate (CCC) in Artificial Intelligence Awareness and the CCC in Applied Artificial Intelligence Practitioner along the way. Students seeking to advance their studies may continue to the Bachelor of Science in Applied Artificial Intelligence, which is currently in development and expected to launch in Fall 2024.

Valuable Work Skills for Today's Workplace

Machine learning, natural language processing, computer vision, programming and problem-solving skills are key areas of study for the AS program. They are also fundamental skills for AI practitioners to maintain intelligent systems that can process, understand and learn from data.

Community and Corporate Partnerships

MDC partners with leading technology companies and experts in AI to enhance educational programs and experiences for the next generation of technologists in order to help them launch successful careers in their chosen fields. To learn more, visit www.mdc.edu/aicenter/partnerships..
Program Details
The A.S. degree is designed for students who are looking for immediate entry into a career upon graduation. Most discipline courses directly relate to the identified career area. The remaining courses are comprised of general education courses.
The Associate in Science in Applied Artificial Intelligence will provide you with the technical knowledge of AI tools and their real-world applications, while also focusing on ethical standards and socially responsible practices in the implementation of AI systems. Teaching and learning is enhanced by facilities, equipment and AI technologies available at MDCs state-of-the-art AI Centers. The Centers feature multiple specialized spaces equipped with advanced AI technologies and quantum computing. Students will also have access to the Makers Space, Design Thinking and a Robotics Lab to ideate, collaborate with peers and create projects.
Areas of Study:
Programming using Python
Machine Learning
Natural Language Processing (NLP)
Computer Vision
Ethics and Social Responsability
Statistical Methods
Cloud Computing
Program Location