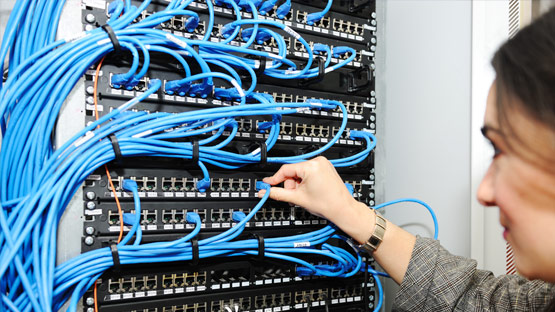 Program Overview
Miami Dade College's experienced instructors can teach you to install and configure routers and switches made by the worldwide leader in network technology, Cisco Systems. Better yet, you can learn these advanced skills in just two semesters. You will learn in hands-on, instructor-led classes with access to state-of-the-art computer workstations and Cisco network equipment.
Program Details
This comprehensive program starts with the basics of networking and moves on to advanced concepts, culminating in a project-based learning course where you will design and configure a complex network. Upon completion of the program, you'll receive a Miami Dade College certificate and a discount voucher for the Cisco CCNA Certification Exam. To begin, students only need a basic understanding of computers and the ability to use the internet. Course material covers:
Computing and network fundamentals
LAN
Ethernet
WAN
protocols
Routing and router configuration
cabling
network troubleshooting
management techniques
and more
Career Prospects
Computer networks are an important part of everyday life and demand for skilled workers is expected to grow much faster than the average for all occupations. Trends in health care and mobile technologies are driving growth in this field. While opportunities exist for workers with job experience, candidates with certifications are much more likely to attain employment. Most graduates of Miami Dade College's certificate programs are gainfully employed in their chosen field, making MDC a great choice for your education.
Cisco Network Administrator
Computer Repair
Microsoft Database Administrator
Oracle Database Administrator
Program Location