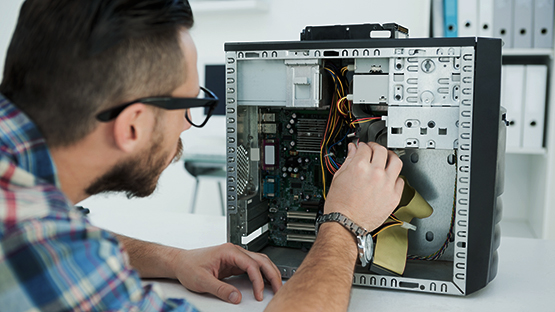 Program Overview
The Bachelor of Science in Electrical and Computer Engineering Technology (BS – ECET) opens the door to a variety of technology-related disciplines. The degree offers students practical, hands-on experience in engineering-related project management, teamwork and technical writing.
This degree is designed to facilitate a seamless credit transfer for students who have an Associate in Science (A.S.) in Electronics Engineering Technology, or Computer Engineering Technology.
Program Details
To earn the B.S. in Electrical and Computer Engineering Technology, students must complete 134 credits, including 48 major core requirement credits from the following courses:
Advanced Microprocessors
Signals and Systems
Analog and Digital Communication
Feedback Control Systems
Technical Economic Analysis
Applied Robotics
Program educational objectives include:
Achieving employment in an electrical, electronics or computer technology-related position with appropriate title and compensation.
Demonstrating electrical and computer engineering technology-related problem-solving skills.
Functioning effectively in diverse and multidisciplinary teams.
Communicating effectively with both technical and non-technical audiences.
Adapting to changes in technology through continuous personal and professional development.
Being capable of assuming increasing professional responsibility.
Conducting all professional activities with integrity, and demonstrating a sense of social and environmental responsibility.
Student outcomes for the ECET program include:
Using principles of science and engineering to solve technical problems.
Applying engineering principles to solve electrical and electronics problems.
Utilizing software applications and appropriate test equipment to analyzeelectrical, electronic and computer systems and applying the results to improve designs or methodologies in a manner consistent with the related regulatory environment.
Successfully design, develop and implement a meaningful project taking regulatory, safety, ethical, social, economic and technical constraints into consideration.
Communicating effectively both orally and in writing.
Working effectively in a team environment.
Developing research and problem-solving skills to support lifelong personal and professional development.
Evaluating the broader effects of technology, and identifying connections between technology and economics, politics, culture, ethical responsibility, social structure, the environment and other areas.
Career Prospects
Graduates will be prepared for careers in a wide range of engineering and technology fields, including:
Engineering Technologists
Project managers
Field Engineering Technicians
Electrical Engineering Technician
Electronics Engineering Technician
Program Location