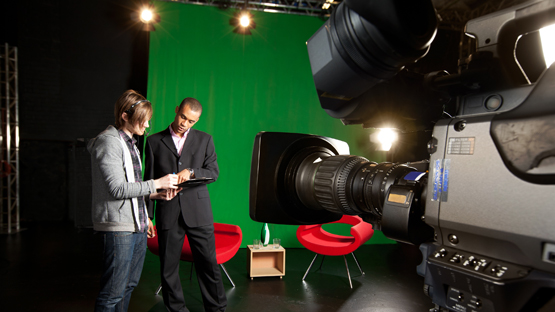 Program Overview
Looking for a role in the multimedia industry? Our four-year TV production degree might be your ticket to a career. Whether your dream is to be behind the camera in traditional media formats or on the Web, this program is designed to provide you with the hands-on, practical skills you need. Courses cover cinematography, scriptwriting, Web design, production, editing, funding, and more.
Taught with cutting edge technology by an experienced faculty, this academic program will prepare you to excel in the creative and competitive field of media production.

Program Details
The Bachelor of Applied Science (B.A.S.) is the designated degree for flexible baccalaureate programs that are designed to accommodate the unique demands for entry and advancement within specific workforce sectors. B.A.S. programs provide degree completion opportunities for students from a variety of educational backgrounds but primarily for those with A.S. degrees or the equivalent. B.A.S. degree programs are included in our transfer agreements with other institutions and typically include capstone experiences that provide opportunities for students to demonstrate the application of acquired knowledge, skills and competencies.
Coursework includes:
Digital Cinematography
Sound Design
DVD Authoring, Web Design & Electronic Distribution
Digital FX & Compositing
Grant Proposals & Funding
Business Practices & Production Management
Fiction Scriptwriting
Ethics & Research for Non-Fiction Scripts
Broadcast Design & On-Air Promotions
Career Prospects
The entertainment industry is growing at a rate of 2.47 percent per year in South Florida and depends upon a highly skilled workforce to meet production demands. Graduates of the Bachelor in Applied Science in Film, Television & Digital Production degree program will be prepared for high-skill/high-wage employment for the following positions:
Camera Operator
Sound Recordist/Sound Editor
Post-Production Technician/Editor
TV Graphics Designer
TV Studio Floor Manager
Studio Broadcasting Technical Personnel
Media Producer and Director
Program Location