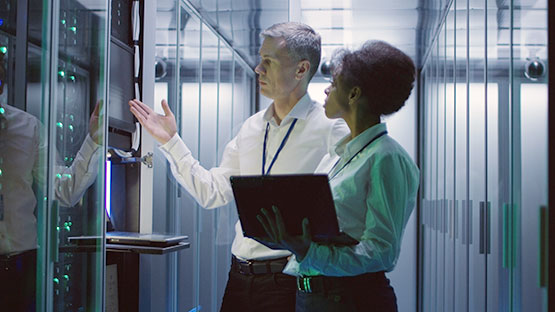 Program Overview
The Bachelor of Science in Information Systems Technology (IST) introduces concepts upon which information systems are founded and analyzes them as solutions to real-world problems. The curriculum provides students with the critical skills and knowledge required to direct and control the design, planning and management of information infrastructures in professional settings. This degree program addresses the workplace need for professionals with information systems management and development expertise.
Quick Facts
High Employment Rate

Computer systems analysts, computer network architects, and computer systems administrators consistently make the list for the annual U.S. News and World Report's 100 Best Jobs. It is expected that careers in this field of study will continue to be among the fastest growing occupations.

High Salary

According to the Bureau of Labor Statistics, computer network architects' median salary is $116,780. Computer systems analysts responsible for an organization's computer systems and its optimization average $93,730.

Valuable Work Skills for Today's Workplace

The program's comprehensive curriculum includes coursework in network security, information storage management, systems administration and maintenance, network design and planning, wireless networks, and IT project management.
Concentrations
There is only one Bachelor of Science in Information Systems Technology. Students may choose one of three program Concentrations: Software Engineering or Networking
Networking Concentration
This Concentration focuses on how to plan, design, implement and maintain network infrastructures. Students will learn how to select the technologies that best suit the client's needs. Students will also learn how to install, maintain, and extend multi-user computer systems and how to develop administrative policies and procedures.
Areas of study in the Networking Concentration include:
Network Design, Planning, Administration and Maintenance
Information Storage Management
Wireless and Mobile Networks
Network Security
IT Project Management
View Additional Concentration:
Program Details
Students in the B.S. in Information Systems Technology (IST) program will learn to create technological solutions that help companies meet their organizational objectives. The knowledge gained may be applied broadly, in a range of professional situations covering information technology, network infrastructures, systems analysis, cybersecurity and more. Students will acquire professional technical skills, including:
Define and analyze information system requirements
Design, implement, and administer effective information technology solutions based on requirements
Identify and apply information technology methods used to protect the confidentiality, integrity, and availability of information and its delivery
Identify and incorporate relevant professional, ethical, legal, and social issues in a technology environment
Career Prospects
Graduates of the B.S. – IST program with a Networking Concentration may qualify for employment in the following job roles and areas:
Network and Computer Systems Administrator
Network Specialist
Network Manager
Computer and Information Systems Manager
Computer Systems Administrator
Information Technology (IT) Management
Program Location