COVERSTORY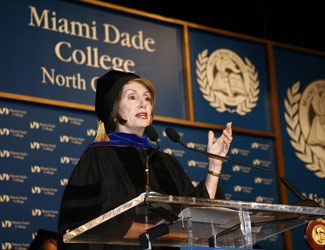 House Speaker Nancy Pelosi delivered the keynote address to 1,100 North Campus graduates. Collegewide, MDC held seven commencement ceremonies for nearly 9,000 students earning associate and bachelor's degrees.
Former Spanish President José María Aznar spoke to South Florida leaders at the Freedom Tower at MDC's Wolfson Campus. MDC President Dr. Eduardo J. Padrón presented Aznar with a presidential medal, the College's highest honor.
In town researching his forthcoming Miami-set novel, Back to Blood, novelist and journalist Tom Wolfe stopped at MDC's Wolfson Campus for a public discussion on "The Secret of Urban Renewal." The visit was hosted with Miami Mayor Manny Díaz.
PepsiCo chair and CEO Indra Nooyi, ranked fifth on the Forbes list of the world's most powerful women, addressed nearly 400 civic and corporate leaders during MDC's Leadership Roundtable speaker series. During the speech, Nooyi outlined her vision of what a makes a good company.
MDC Chair Helen Aguirre Ferré and entertainment mogul and alumnus Emilio Estefan were among the community and business leaders who met with Dominican Republic Leonel Fernández at MDC to discuss Fernandez's Global Foundation for Democracy and Development.
The multi-award-winning jazz virtuoso Arturo Sandoval was one of many musical greats to perform at a jazz concert celebrating the 40th anniversary of MDC's Kendall Campus. Sandoval performed with flutist Nestor Torres, MDC's own Grammy-winning professor Ed Calle and others to a capacity crowd.
FEATURES