COVERSTORY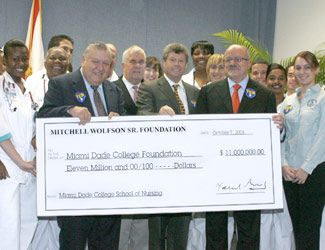 The Wolfson Foundation donation will support the School of Nursing by increasing the number of nurses who are trained at the College and placed into the local workforce.
Anna Bernanke, wife of Ben Bernanke, chairman and a member of the Board of Governors of the Federal Reserve System, with Wolfson Campus President Dr. Rolando Montoya.

MDC President Eduardo J. Padrón with Janice L. Jacobs, assistant secretary of the U.S. Bureau of Consular Affairs, and Ryan M. Dooley, regional director of the Miami Passport Agency for the U.S. Department of State.

On a recent visit to the College, Florida Senate President Ken Pruitt met with MDC President Dr. Eduardo J. Padrón.
FEATURES