COVERSTORY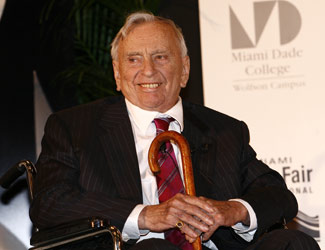 Gore Vidal (above), Peter Matthiessen, Mia Kirschner and Junot Diaz were among the hundreds of top-notch authors and celebrities who journeyed to Miami to celebrate 25 years of the nation's most esteemed literary gathering.
Former U.S. Secretary of Labor Alexis Herman visited MDC's North Campus for a discussion with students about economic empowerment and how individual financial decisions can impact families and the nation.

Juan Carlos Fontán, Spanish Consul in Miami Santiago Cabanas, MDC President Dr. Eduardo Padrón and José Luis Pego Alonso attended the opening of the Dalí exhibition at the Freedom Tower at MDC.
Italian Consul General Marco Rocca and curator Don Francesco Braschi attended an exhibition from Biblioteca Ambrosiana, Milan, at the Freedom Tower at MDC. The exhibition includes the work of Leonardo da Vinci, among others.
Distinguished author Edwidge Danticat (second from right) attended the Book Fair "Evenings With" event featuring Tavis Smiley (far left) and Dr. Cornel West (far right) with her husband, Fedo Boyer and their daughter Mira.

Miami Mayor Manny Díaz, Isabel de Quesada, Paola Vázquez and Ricardo Fernández de Córdova attended the Dalí exhibition at the Freedom Tower at MDC.
FEATURES