---
Academics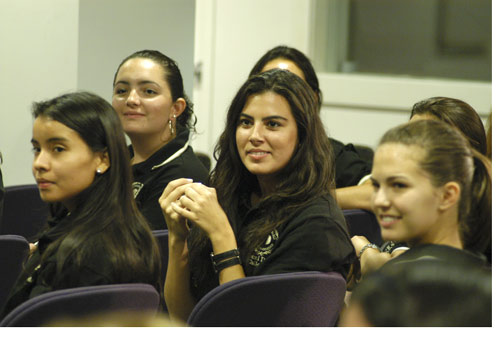 Program offers students a global education
The Honors College Dual Language program is an outstanding example of a truly global education.
The program, an innovative initiative offered only at MDC's InterAmerican Campus, gives its students tremendous social and economic advantages in today's global marketplace by conducting all classes within the program in either English or Spanish.
Research shows that students who are bilingual reap increased cognitive, personal and social development skills, become more marketable in the workplace, and have expanded job opportunities.
For today's students, the importance of being bilingual, fluent in Spanish and English, cannot be understated. Spanish is the world's third most commonly spoken language, with approximately 350 million speakers in 21 countries. In the U.S., about 29 million, or 15 percent of all residents, speak Spanish. It is also an official language of the United Nations.
To prepare students for this reality, the Dual Language program challenges students to be more than just conversant – they must become fully fluent in both languages and comfortable enough to conduct business in Spanish and English.
"The factors of globalization and the increase in the percentage of the Hispanic population in the U.S. make the knowledge of Spanish a must requirement for a successful career in any field," says Dr. Arturo Rodríguez, a science professor in the Dual Language program. The majority of faculty members in the program are bilingual or have lived and studied in countries outside the U.S.
Only 50 students are accepted each academic year, and many students decide to learn a third language to expand their marketability.
"I find that program students are competitive and like to be challenged," says biology professor Dr. María Guerrero.
Psychology professor Carola Padreschi capitalized on that drive in a practical way. She asked her students to develop an informational pamphlet in Spanish explaining a psychological disorder or trastorno emocional. The results were informational, culturally sensitive, informative and attractive brochures that may be distributed at local health care clinics, she said.
In another ongoing service-learning project, students in the Dual Language program participate in tutoring and mentoring at Phillis Wheatley Elementary in Overtown. Part of the national "I Have a Dream" program, the project is designed to empower children in low-income communities to achieve higher education by providing them with guaranteed tuition support and equipping them with the skills, knowledge and habits they need to gain entry to higher education and succeed in college and beyond.
Because graduates of the Dual Language program most often continue their education at prestigious universities like American University, Cornell, Georgetown, George Washington University, New York University and more, they serve as perfect role models to the students at Phillis Wheatley.
— Barbara Bickel
More Academics Articles