---
Academics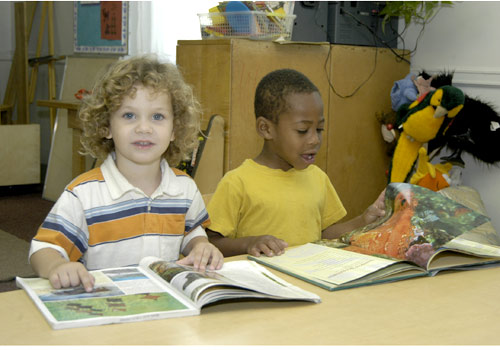 Best practices in childhood education
For preschool children, discovering the world around them is their primary mode of learning. At the Pre-School Laboratory at MDC's North Campus, this discovery process takes place in a planned environment designed to stimulate a child's interest and offer opportunities for growth in all phases of development.
The program there is child-centered and based on best practices research in early childhood education, says Dr. Susan Neimand, director of the School of Education (SOE). "Our Pre-School Laboratory classrooms help children learn a love of books, find the artist within, play dress-up and simply be a child," Neimand said. "Children at the lab are appreciated and treasured for who they are and our individualized approach to learning meets each child's different and unique needs and interests."
Serving as a model of excellence, the lab was recently reaccredited by the prestigious National Association for the Education of Young Children (NAEYC), satisfying the association's newly implemented exacting standards, Neimand said.
"This is quite an honor," Neimand explained, "because our lab is one of the first in the country to earn the NAEYC's mark of quality. Only two percent of the 1,300 child care centers in Miami-Dade County are accredited by NAEYC."
The Pre-School Laboratory, which houses 120 children from infancy to 5 years of age, serves as a demonstration site for students pursuing degrees in early childhood education in the SOE.
The facility uses the most advanced tools to support and promote active learning at an early age in music, art, science, reading, literature and computer literacy. The lab also includes Florida's mandated Voluntary Prekindergarten Program.
"Our SOE students are able to witness the learning needs of the children and see first-hand how infants and toddlers, who are sensory learners, develop their sensory and motor skills through their environment and through exploration," Neimand added.
Infants, toddlers and preschool children each have their own separate playground areas. And the Pre-School Laboratory's resource center provides educational materials for teachers, parents and students. College students have access to a computer room, and workshops on early childhood education are offered
to the community.
— Barbara Bickel
More Academics Articles