---
Academics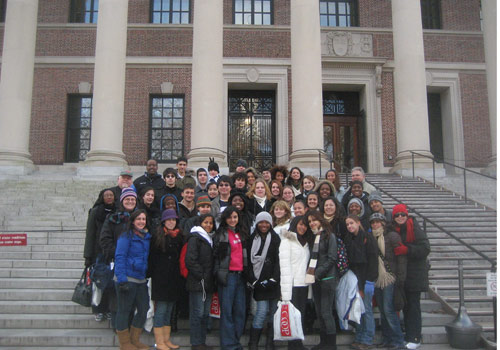 School for Advanced Studies among best in U.S.
The School for Advanced Studies continues to prove it is one of the best in the nation, as recently ranked by Newsweek magazine.
A partnership between Miami Dade College and the public school system in Miami-Dade County, the school was designed for motivated, and academically talented, 11th and 12th grade students whose needs are not adequately addressed in the traditional high school setting.
Each semester, students enroll in a minimum of three college dual enrollment courses taught by MDC faculty and four high school courses taught by public school teachers.
Dual enrollment courses are college courses that provide both high school and college credits at the same time. The courses are assigned the same weight as Advanced Placement (AP) courses in a typical high school.
Students in the School for Advanced Studies can earn up to 60 college credits and an Associate in Arts degree by the time they graduate.
The success rate of School for Advanced Studies, which was founded in 1988, has been phenomenal: 100 percent of its graduates continue their studies at top colleges and universities in Florida and around the globe.
"Our students come from very diverse ethnic and socioeconomic backgrounds," said school principal Guillermo Muñoz. "The common thread is their high level of motivation and dedication to reaching their full academic potential. Our school's reputation as a highly rigorous academic institution attracts many who want to be challenged as they pursue their studies." 
The School for Advanced Studies is fully accredited by the Southern Association of Colleges and Schools.
Students who attend are offered free tuition and fees, textbooks and materials and, to those who are eligible, school bus and metrorail transportation. The student population caps at 500, with students attending classes at Miami Dade College's Kendall, North, Wolfson and Homestead campuses, Muñoz said.
"Our students also learn how to adjust to a college environment while completing high school studies and learn how to manage their time. [They] gain a level of maturity beyond that of their peers," he added.
Through both the School for Advanced Studies and the high school at New World School of the Arts, Miami Dade College is able to make a major impact on secondary school education reform. Both schools routinely rank among the highest scoring schools in the world in Advanced Placement results.
— Barbara Bickel
More Academics Articles