---
Academics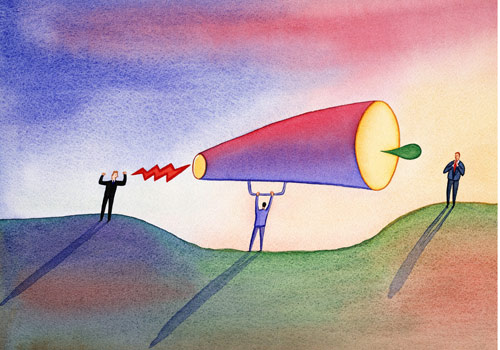 Translation program breaks language barrier
MDC graduates like Maria Dillman echo enthusiasm when they speak about the Translation and Interpretation program at InterAmerican Campus, which fills a vital need for South Florida's business community. Dillman, who graduated in May 2008, obtained her State of Florida Court Interpreter Certification and today can work as an interpreter in the legal field.
Offering an A.S. degree and two certificate options in Translation and Interpretation in the language combinations of Spanish/English or Haitian-Creole/English, MDC's program is unique in the nation. Graduates work for government agencies, multinational corporations, courts, hospitals and in news and entertainment media outlets.
Program graduates meet the requirements to sit for the American Translators Association (ATA) Certification exam and the Florida Interpreter Qualification exam. Graduates who complete their A.S. also meet one of the hiring requirements of the Florida Court System.
"Translating and interpreting for the marketplace and for government agencies has become a necessity, particularly given our community's multicultural and multilinguistic diversity," said Professor Humberto Cerna, program coordinator.
The Translation Certificate focuses on legal, financial, business and medical translating. The Interpretation Certificate covers all modes of interpreting such as sight, consecutive and simultaneous, with a focus on court interpreting and medical interpreting.
Graduate Diana Scholz Israel, an ATA-Certified Spanish/English translator, chose the program to usher in a mid-life career change after spending more than 20 years working the in oil industry.
"Since 2004, I have translated a book and several movie scripts, subtitled soap operas for Telemundo and currently work as copy editor/translator for Wynwood. The Art Magazine," Israel said.
MDC graduate Monica Guelman, who holds an A.S. in Translation and Interpretation Studies and is currently studying for her Executive MBA at Brentwood College, chose MDC because it is one of the most respected educational institutions offering this training.
Currently Program Director of Corporate Training for TALK International School of Languages in Fort Lauderdale, Fla., Guelman said the program gave her more confidence as a language facilitator. "The program is excellent and the teachers are highly experienced and knowledgeable," she added.
— Barbara Bickel
More Academics Articles