---
Alumni News
Scenes from the street on gallery walls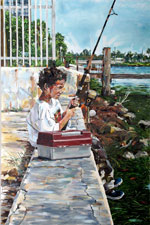 A painting by Michael Vasquez
As the art scene in Miami blossoms, more alumni of MDC's esteemed New World School of the Arts (NWSA) make their way into the public spotlight. One of those graduates is Michael Vásquez, whose unique vision is generating broad recognition among art enthusiasts.
Vásquez was raised by a single mother in St. Petersburg, Fla. Throughout his childhood, he longed for the presence and influence of a father. This longing is present in his work.
In order to satisfy this need for a strong male figure, Vásquez turned to his neighbors and found himself in the company of a complex group of characters who appear to outsiders as gangsters and thugs.
His art showcases this pseudo-family through mixed media, focusing on these unconventional individuals as people who, according to the artist, "taught me about manhood … how much they cared and supported, both emotionally and financially, the confidence that they built in me to be able to stand up for myself."
Last year Vásquez, who earned a BFA in visual arts from NWSA,
showed at the internationally recognized Fredric Snitzer Gallery in Miami's Wynwood neighborhood. His first solo show took place at the Kemper Museum of Contemporary Art in Kansas City, Mo., which offered him great exposure to a wider community of art lovers.
An article released by the Kemper Museum notes that focusing on the superficial aspects of Vásquez's subjects, seeing them as simply glorified gangsters, is to miss the point of the artist's concept. "Autobiographical in nature," the article continued, "these paintings pay sincere homage to formative relationships in the artist's youth, relationships that supplanted those of a more traditional family."
Coinciding with Art Basel Miami Beach, NWSA hosted an alumni art auction and exhibition, curated by Snitzer. Vásquez not only donated a piece to the show, but his was one of the first to sell. No doubt, this young artist is guaranteed to continue to awe the art world with his sensitive and personal depictions of controversial subjects.
— Elizabeth Tracy
More Alumni News Articles