---
Cultural Spotlight
Performance piece breaks down stereotypes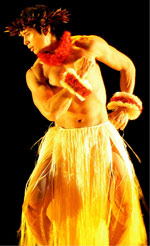 Keo Woolford in I LAND
Acclaimed actor and hula dancer Keo Woolford will present his one-man show I LAND to audiences at The Colony Theater in March. The award-winning piece is being presented in South Florida as part of the Cultura del Lobo Performance Series.
Woolford is a multi-disciplinary artist who was born and raised in Hawaii. He danced hula in high school and won many accolades. He was also a member of the Hawaiian pop vocal group Brownskin. A music contract took him to Los Angeles, but he instead caught the acting bug.
He was cast as the King of Siam in a West End production of The King and I at the London Palladium, which ran for an astounding 350 performances. Woolford is also a prolific songwriter having written hits for recording artists in Japan and in the U.S. and contributed to the Grammy-nominated album, Island Warriors.
He wrote I LAND to share his personal story.
"It started from nothing and, like the songs or scripts I write, it has manifested into something beyond anything I could have imagined," he said in a recent interview.
At once hilarious, defiant and transcendent, I LAND is Woolford's moving, semi-autobiographical search for the meaning of heritage in a post-modern world.
The Los Angeles Times said: "Like its sculpted star, I LAND looks like a million bucks … his persona as engaging as his physicality is imposing … sincere … impressive … an admirable, entertaining piece, and Woolford's range of movement and humor is something to see."
Through traditional Hawaiian hula, hip-hop, Hawaiian talk story and spoken word, Woolford navigates the many worlds where hula lives – from backyard parties to Hollywood kitsch, to the realm of the sacred.
After having its Off-Broadway premiere, I LAND toured the U.S. and abroad. It was awarded the 2007 Outstanding Solo Performance of the Year, given by the Los Angeles Stage Scene.
"Woolford breaks down commonly held stereotypes about hula – most often based on sitcoms and television productions like Hawaii Five-O that have reduced hula into poorly represented kitsch. He shows us that the cultural lines run much deeper," said Greg Jackson, the artistic director of Cultura del Lobo.
"It's an opportunity to be entertained while learning about the more spiritual aspects of Hawaiian culture," added Jackson.
— Katherine Joss
More Cultural Spotlight Articles