---
Cultural Spotlight
Conversations on art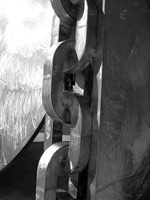 Lynch Fragments
The College's Art Gallery System will present three exhibitions that push viewers to experience art in new ways. These exhibitions engage the viewer in a visual discussion about the meaning of art, African-American history and the culture of Miami in the face of globalization.
In First Time Ever – Questions on Art, on view at InterAmerican Art Space and West Gallery, curators are asking for viewers' participation.
"This exhibition is a highly didactical experience that presents charming anecdotes and fascinating references by artists about the way art is made, the purpose it serves and, ultimately, the contribution it makes to society," said Jorge Gutiérrez, director of the Art Gallery System.
Patrons will have the opportunity to ponder age-old questions about art: How can beauty be defined? When do artists become recognized as such? And, is work produced by amateurs still art?
Melvin Edwards' exhibition of alternative sculpture, Lynch Fragments, will be on display at Gallery North.
Lynch Fragments is a collection of steel reliefs, most no more than a foot tall. Several include found objects like chains, nails and padlocks but more often Edwards shapes his 'tools of oppression' himself. The reliefs are inspired by African masks and capture the masks' ability to express powerful and identifiable feelings of fear, violence, vigilance, sexuality and play.
The works – distinguished by their tone and independence from artistic trends and political fashions – serve to illuminate important moments in African-American history from the past to the present.
Miami contemporary art is seen through the eyes of a guest curator in Art Report, coming to Kendall Art Gallery. The exhibition focuses on issues of globalization, technology, immigration and the environment and their relevance to the culture of Miami. It touches how these concerns can render one's physical location inconsequential and affect our ability to connect.
The artists selected for Art Report present works revolving around a shared group of themes: dislocation, subjectivity, the threat of destruction, insecurity and alienation, and our relationship with both the personal and the communal environment.
For information on exhibitions, call 305-237-7186.
— Katherine Joss
More Cultural Spotlight Articles