COVERSTORY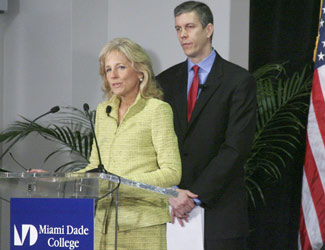 On his first official visit to a college or university since taking office, Duncan, who was accompanied by Dr. Jill Biden, the vice president's wife, praised MDC for the role it plays in giving hundreds of thousands of students an opportunity to advance through education.
The Spanish monarchs, Queen Sofía and King Juan Carlos, greet MDC President Dr. Eduardo J. Padrón at a recent reception in Miami.

Justin Aldrich Rockefeller (far right), scion of the prominent Rockefeller family, met recently with students to discuss service learning and political involvement.
Costa Rican President Oscar Arias Sánchez and Luis Alberto Moreno, president of the Inter-American Development Bank, attended a meeting of the Brookings Institution at MDC. Brookings is consistently ranked as the most influential, most quoted and most trusted think tank.

April is National Poetry Month, a reminder to appreciate and celebrate the poetic art form. Throughout the years, MDC has welcomed numerous bards, including, in 1985, Gwendolyn Brooks, the first black woman to receive the Pulitzer Prize.
FEATURES