---
Academics
Dedicated to dance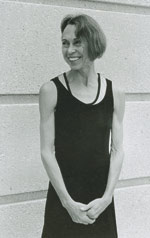 Dr. Diane Brownholtz
By working at Miami Dade College, Dr. Diane Brownholtz achieved her life-long goal of teaching and inspiring young artists.
The dance program director at Wolfson Campus says it's her job to motivate students who are making choices about their future aspirations.
In addition to teaching at Wolfson Campus, Brownholtz is an adjunct faculty member at MDC's New World School of the Arts (NWSA), where she teaches dance history.
Brownholtz has a direct way of measuring student progress.
"Students need to demonstrate cognitive understanding of techniques and skills necessary to be a dancer," she said. "Progress means students can apply their knowledge through physical application as well as verbal articulation of an understanding of all dance genres."
Two students serve as exemplary role models of her teaching philosophy. Former student Lloyd Knight is currently a principal dancer in the Martha Graham Dance Company in New York. 
"I am so proud of Lloyd's accomplishments in his quest to become a professional dancer," Brownholtz said.
Another student, Manuel Sánchez, began at Wolfson Campus with no dance training. Brownholtz was his first formal dance teacher. Now Sánchez is a senior at NWSA and has been invited to attend several prestigious dance workshops in New York City. His goal is to become a principal dancer at a major company.
MDC's arts programs and the overall ambience of the College provide a fertile training ground for young aspiring artists, Brownholtz said. 
"There are many opportunities for students to perform which helps them make the connection between classwork and dance as a performing art form," she said.
Brownholtz's interest in dance started at age 5, when she can distinctively remember how excited she was about going to ballet class. She studied dance at Northwestern University and earned a master's in dance from the University of Illinois. She earned a doctorate in higher education administration at the University of Miami.
In 1993, Brownholtz was awarded an Endowed Teaching Chair from the College. In 2003 and 2005, she collaborated with Peter London, current New World School of the Arts professor and former member of the renowned Martha Graham Dance Company, to present a historical Martha Graham Educational Residency for students and faculty at MDC and NWSA.
— Barbara Bickel
More Academics Articles