---
Academics
Professor focuses on the power of education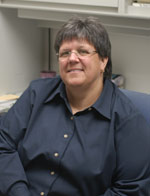 Valerie De Angelis
Part of MDC's institutional role is to ready thousands of underprepared students for college-level academic and social life. To assist the academically unprepared, MDC offers Student Life Skills (SLS), a course that teaches students everything from navigating the college environment to adopting lifelong learning habits.
"You're really not just a professor but a mentor and advisor," said psychology professor Valerie De Angelis, who teaches SLS courses at North Campus. "You are a teacher and also a helper/counselor."
While serving this dual role, De Angelis says it's her job to get students to "strive for the best, to understand that cutting corners doesn't make it. You have to be willing to put in the hard work."
A large number of MDC students are the first members of their families to attend college. The transition is sometimes harder for these students because they don't have experienced family members to coach them before walking onto campus for the first time. De Angelis understands the trepidation that comes with being a family pioneer. As the granddaughter of Italian immigrants, she too was the first in her family to attend college. The lessons she learned as an undergrad – to put in the hard work in order to reap rewards later – inform the choices she makes both as a mentor to students and as a colleague in the psychology department.
"I love when students enthusiastically connect with a particular classroom activity," De Angelis said. "I also love designing instructional activities and work to continually improve my teaching strategies."
De Angelis serves as the collegewide convener for psychology faculty at MDC, leading them in advancing discipline initiatives including updating course curriculum, developing new courses and implementing MDC's learning outcomes and assessments.
She also serves on two strategic plan advisory groups that address MDC's future initiatives and plans for student success and student access. In addition, she is a resource and lead facilitator for the collegewide First Year Experience Task Force.
De Angelis has a love of technology and teaches Virtual College as well as traditional courses. "All my face-to-face classes have a technology component," she said. "The digital divide still exists and many students have not consistently learned, or used, the technology that today's workplace now demands."
Recently, De Angelis collaborated with Dr. Joanne Bashford, associate provost for institutional effectiveness, on a research article published in Exploring the Evidence: Reporting Research on First-Year Seminars, Vol. IV, a peer-reviewed monograph published by the University of North Carolina's National Resource Center. And this summer, she and several other MDC faculty will co-present "The Art of Teaching: Engaging the Millennial Generation" at the annual meeting of the American Psychological Association.
"What we're doing from top to bottom is short of a miracle. People need to know what's going on at institutions like ours," she said.
— Barbara Bickel and Gariot P. Louima
More Academics Articles