---
COVERSTORY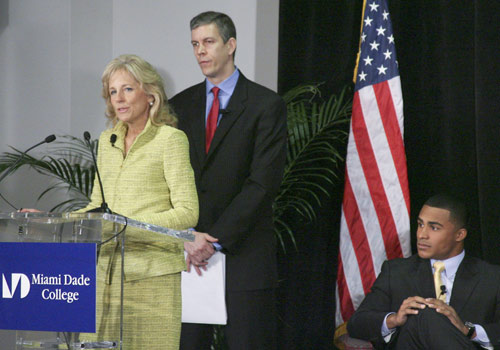 U.S. Education Secretary Arne Duncan: MDC is the 'best of the best'
On his first official visit to a college or university since taking office, U.S. Education Secretary Arne Duncan praised MDC for the role it plays in giving hundreds of thousands of students an opportunity to advance
through education.
Duncan, who visited Miami Dade College with Dr. Jill Biden, Vice President Joe Biden's wife, said the success of institutions like MDC is key to restoring the U.S. to a place of international economic prominence.
"This is our first visit to a school together, and it's not coincidence we chose Miami Dade," Duncan said.
There are more than 1,200 community colleges across the country, and MDC is the largest and most diverse in the nation with an enrollment of 170,000 students.
Miami Dade College "has a reputation of being the best of the best, and you should be very proud of being part of this place," Duncan said. "Thank you for the example you set, not just for Miami, but collectively for the rest of the nation. This is an example of what passionate education can do."
MDC President Dr. Eduardo J. Padrón introduced Duncan and Biden to the 200 Honors College students who gathered in the Batten Community Room at Wolfson Campus.
After expressing his enthusiasm for Duncan and Biden's commitment to education, Padrón joined the audience as Duncan led a panel discussion with MDC student Brandon Janvion; chemistry professor and department chair Dr. Lenore Rodicio; and Frank Nero, president and CEO of The Beacon Council, Miami-Dade County's official economic development partnership.
"As a community college professor, I see firsthand the significant and critical role that community colleges play in educating students and preparing them for a fiercely competitive workforce," said Biden, an English professor at Northern Virginia Community College. "Community colleges will no doubt play an increasingly important role in restoring the economy over the coming years by training Americans for jobs of the future in affordable and accessible ways."
While responding to a question from a student about President Obama's economic stimulus package, Duncan said $30.8 billion is earmarked for higher education, with more than half of that amount dedicated to closing the shortfall in the Pell Grant program. Additionally, changes in the American Opportunity Tax credit will provide relief to more families struggling to pay for college, he said.
"With a $21 million reduction in funding and a 15 percent increase in enrollment here at Miami Dade, you are all too familiar with the challenge of trying to serve your students amid this economic crisis. In tough economic times, we have to tighten our belts – but not at the expense of our children's future," Duncan said. "This is a historic opportunity we have right now to do something extraordinary for students and to take American education to the next level."
MDC Board Chair Helen Aguirre Ferré said she was encouraged by Duncan and Biden's enthusiasm for the role of community colleges in American life. "As Secretary Duncan said: Education is the key to economic success."
Prior to the panel discussion, Biden and Duncan toured MDC's state-of-the-art learning labs.
— Gariot P. Louima