---
Cultural Spotlight
Art Gallery System presents emerging artists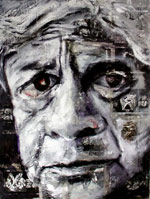 Guayasamin, Mariana Altamirano, 2008
Viewing paintings by a possible future Whitney Biennial winner and staying abreast of the latest trends in contemporary art are the promise of the annual Emerging Artists student exhibition at Miami Dade College.
The exhibition series is sponsored by the visual arts departments at various MDC campuses as well as MDC's Art Gallery System. It runs through May.
The exhibitions offer learning experiences for visual art students, whose works during an entire academic year are critiqued by faculty in preparation for the exhibitions.
"Our staff, students and alumni comprise an internationally renowned community of artists, designers and academics who all play a real role in the shaping of modern culture," said Jorge Gutiérrez, director of the Art Gallery System.
The College's student exhibitions serve as a reference point for contemporary art and, in some cases, propel students into the world as professional artists. Gutiérrez said he is often surprised and pleased with the quality of the works presented by MDC students.
"In addition, public viewing is an invaluable experience for these students, many of whom dream to make careers in the visual arts," Gutiérrez added.
— Barbara Bickel
More Cultural Spotlight Articles