---
Cultural Spotlight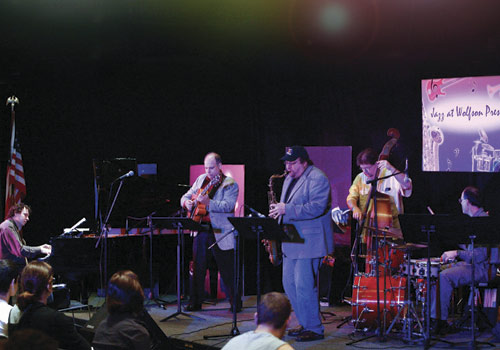 Faculty close Jazz at Wolfson season
The Jazz at Wolfson Presents concert series will close April 8 with a performance by some of South Florida's finest musicians – and they're all Miami Dade College faculty members.
The Jazz Faculty Quintet features saxophonist Ed Calle, guitarist Mike Di Liddo, pianist Jim Gasior, bassist Rick Doll and drummer George Mazzeo. They'll present original compositions and selections from the jazz repertoire, including modern, hard bop, modal and Latin jazz.
Their performance is a fitting send-off for the 2008-2009 season, which brought inspirational riffs and runs to Wolfson Campus every month since September.
The series is produced by the Wolfson Campus arts and philosophy department and funded, in part, through the Hannibal Cox Jr. Cultural Grants Program of Miami-Dade County.
Jazz at Wolfson Presents is the only continuously running jazz series in Miami-Dade County, offering free, year-long jazz performances to residents, students and music lovers of all ages.
The season opened in the fall with guitarist John Stowell and continued with pianist Andy LaVerne, the Wolfson Jazz Ensembles, saxophonist Gary Campbell and guitarist Jonathan Kreisberg.
Trombonist Steve Davis kicked off the spring concerts, followed by organist Bobby Floyd and vocalist Kathy Kosins.
— Staff Report
More Cultural Spotlight Articles