---
Features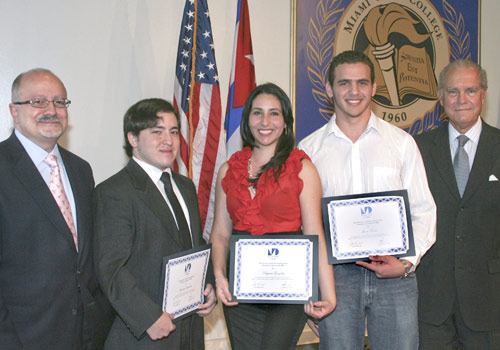 Francisco Foundation scholarships awarded
For the sixth consecutive year, three MDC students have been awarded the coveted Francisco Foundation scholarships for demonstrating leadership skills, being involved in community service and successfully articulating what freedom means.
The scholarships were created to honor Rogelio "Francisco" González Corzo. At 28, Corzo was the leader of the Cuban resistance group, Movement to Recover the Revolution. He was executed by Fidel Castro's government in 1961.
This year, scholarship recipients Jhonatan Larrocha, Dayana González and Juan E. Torres share a total of $7,500 to assist them in continuing their education.
Larrocha is a graphics and commercial arts major at InterAmerican Campus. He was instrumental in launching the acclaimed student literary publication, Urbana, and he hopes to one day lead his own design company.
González, also at InterAmerican Campus, is a psychology major working toward becoming a clinical psychologist. She boasts a 4.0 GPA, is the historian of Service for Peace and a member of both Phi Theta Kappa and Phi Beta Kappa.
Torres is a student at Kendall Campus. He hopes to one day become a physician. He is the founder of the Miami Dade Science Organization, which promotes science-related events and helps other students learn about the subject. Through this organization, he has participated in many fundraising activities for cancer treatment, awareness and research causes. He is also a member of Phi Theta Kappa.
The awards were announced by Miami-Dade Commissioner Javier Souto and representatives of the Francisco Foundation.
— Staff Report
More Features Articles