---
Features
MDC leads global fight against HIV/AIDS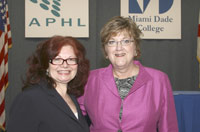 Eva Perlman and Dr. Anita Kaplan
A partnership between Miami Dade College and a renowned health organization is putting MDC on the front lines in the fight against the spread of HIV and AIDS in developing countries.
MDC and the Association of Public Health Laboratories (APHL) will work together to train scientists and health care workers from developing countries. Instruction will be delivered at MDC and abroad.
Dr. Anita Kaplan, president of MDC's Medical Center Campus, and the APHL's Eva Perlman, senior director of professional development, signed the agreement at a recent ceremony at MDC.
"This agreement was just to formalize our commitment to collaborate," Kaplan said.
This enterprise was born from a recent collaboration between Miami Dade College, the University of Miami and the APHL, which brought 12 biologists from Mozambique to MDC for a three-month course. The biologists who participated in the program all held bachelor's degrees in biology and related science disciplines and worked professionally at hospitals within the Mozambique Ministry of Health.
What they encountered at MDC's Medical Center Campus were skilled faculty/practitioners and high-tech laboratories. While the Mozambique biologists were at MDC, health sciences department chair John Solomon and MDC lab technologist Warren Shim flew to Mozambique to conduct an assessment of laboratories and training facilities in order to develop new curriculum. In March, Solomon and faculty member Deborah McCray returned to Mozambique to teach a course in quality control.
Collaborations like this speak to the College's commitment to provide students with broad professional experience.
While the primary purpose is for MDC to provide health professionals with specialized instruction, MDC students and faculty also learn from the exchange experience, Kaplan explained.
"When our students go work in the community, it serves them well to know about their field in relation to the world," she said. "It fosters understanding of individuals and other cultures. As professionals we're obligated to share what we know, and we learn from them too."
— Gariot P. Louima
More Features Articles