---
Features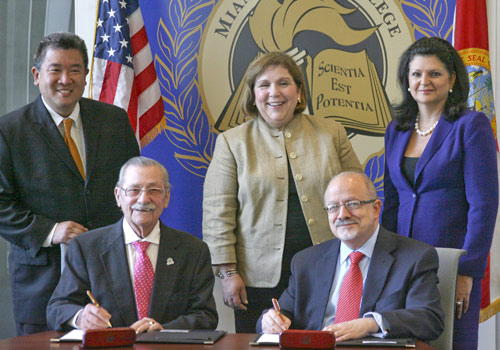 MDC and Latin Chamber partner to promote film
The Latin Chamber of Commerce in South Florida (CAMACOL) and Miami Dade College have joined forces to promote film business in the region.
MDC, which presents the Miami International Film Festival (MIFF), and CAMACOL believe in South Florida's potential as an international film capital. For 26 years, MIFF has been attracting talented filmmakers from throughout the world to showcase their work. MIFF has grown exponentially in size and prestige throughout its history.
The partnership between CAMACOL and MDC will enable the establishment of joint projects aimed at further expanding the local film industry, creating a stronger film market and providing more opportunities in this sector for Hispanics and other minorities. CAMACOL President Cpt. William Alexander and MDC President Dr. Eduardo J. Padrón formalized the agreement at a signing ceremony at Wolfson Campus.
Major film festivals around the world include a film market or industry office initiative that facilitates the screening and sales of film projects to world sales agents and companies. The success of these initiatives attracts, over a period of time, the best films and filmmakers to a festival. It also becomes a catalyst to the growth of the film industry in the host city and county, said Vivian Donnell Rodríguez, MDC's executive director of cultural affairs and resource development.
"This initiative with CAMACOL is our first step in establishing an industry office as part of MIFF and providing a place for the business of film to occur, particularly between U.S., European and Asian distributors and Ibero-American film projects," Rodríguez said.
— Hector Pino
More Features Articles