---
Features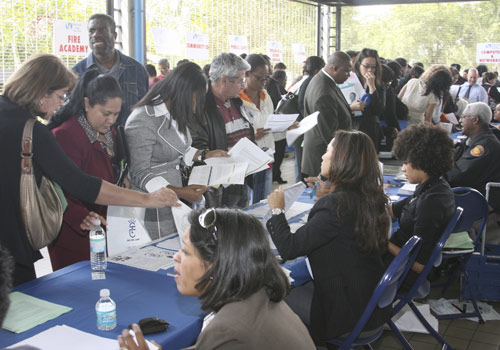 MDC hosts 'mega' job fair
Thousands of South Floridians braved chilly weather for an opportunity to speak to the more than 40 employers at Miami Dade College's recent job fair.
The timing for MDC's fair couldn't be more appropriate as South Florida and the rest of the nation continue to struggle with an economic downturn that has resulted in layoffs in the public and private sectors.
In 2008, 39 states and the District of Columbia posted statistically significant unemployment rate increases. Florida and Nevada reported some of the highest increases in unemployment, and job count for the Miami area decreased by 32,400, according to the U.S. Bureau of Labor Statistics.
But there are opportunities out there. The W Hotel, for example, was seeking to fill nearly 190 positions. Also on hand were Carnival Cruise Lines, Kaplan Test Prep, Wachovia Bank, Walt Disney World and several federal agencies.
The event received national media coverage.
"I'm just looking for any opportunity I can find right now, really," job seeker Sindo Rodil told WSVN-7, one of several news outlets to report on the fair.
The job fair theme – Take Care of Your Future Today – was inspired by the current economic conditions as well as MDC's slate of four-year bachelor's degrees in recession-proof fields such as public safety, education and nursing.
— Tarnell Carroll and Gariot P. Louima
More Features Articles