---
Features
Players continue a tradition of excellence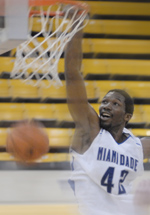 Trevor Mbwake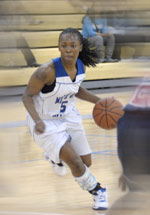 Kquanise Byrd
MDC's Trevor Mbwake was recently selected as the NJCAA Division 1 men's basketball player of the week. The week before, Kquanise Byrd of the Lady Sharks, was honored with the same distinction
Mbwake, a 6'8" forward from St. Paul, Minn., was honored after posting two dominating double-double performances for No. 3 MDC. He posted his eighth double-double of the season when he scored 18 points with 13 rebounds, four assists and three blocks in a 102-70 win over Broward College.
He then got his ninth double-double in the team's next game with 25 points and 19 rebounds to go along with another four assists and three blocks in an 88-85 victory over Palm Beach College. Mbwake shot 63 percent (14-22) from the field on the week and 75 percent (15-20) from the free throw line.
Mbakwe has committed to the University of Minnesota for the 2009-2010 year. He joins a storied tradition going back nearly five decades of MDC student athletes transferring to top schools and enjoying success in the upper divisions and at the professional level.
Byrd is a sophomore point guard who averaged 23.0 points per game over the course of one prolific week as her team won two of three games. In a 59-54 win over Palm Beach College, Byrd recorded 22 points. Against Hillsborough, she posted 29 points and against Brevard she scored 18 points. The 5'7" sophomore also posted eight assists, six steals and 10 rebounds for the three games and shot an impressive 81 percent from the free throw line. She is from St. Petersburg and starred at Lakewood High School.
— Staff Report
More Features Articles