---
Features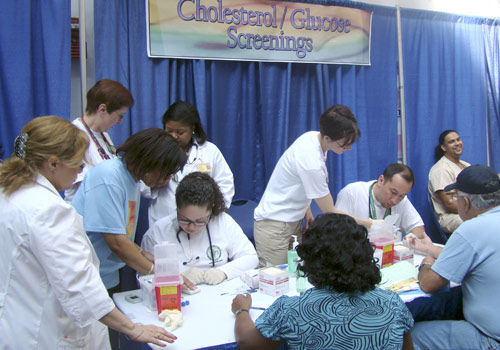 Thousands attend community health fair at Medical Center Campus
There was plenty of talk about hearts and candies at Medical Center Campus recently, but that talk had nothing to do with Valentine's Day. Instead, attendees at MDC's 2009 Community Health Fair learned about common health problems such as heart disease and high cholesterol and received important information on nutrition and dental care.
The event, now in its fourth year, provides free medical services to members of the community who may not otherwise get regular medical attention. With more than 1,000 people in attendance, this year's fair provided glaucoma, blood pressure, glucose and cholesterol tests as well as chair massages, dental screenings and information on nutrition, heart disease and cancer prevention.
Pharmacists from the Florida Pharmacy Association were on hand to give attendees one-on-one counseling after their screenings in order to help them understand their results and adjust their lifestyles accordingly. Free mammograms were also offered to aid in the early detection of breast cancer.
Aside from serving the community, the health fair is a valuable learning experience for students in MDC's medical programs who were on site with faculty members to aid in the screening and counseling process.
"The students had the real-life experience of providing a service to the community and being able to make a difference," said Madeline Pumariega, dean of students and administration at Medical Center Campus. "For the attendees, some of them received screenings and information that they wouldn't have been able to get otherwise. It's unbelievable that the College is able to provide these kinds of services to the community."
Education seminars conducted by MDC faculty members covered issues like HIV/AIDS, asthma, diabetes, pre-natal care and smoking cessation.
In the Children's Corner, kids participated in face painting and arts and crafts activities while also learning about important habits like dental hygiene.
— Natalia Maldonado
More Features Articles