---
Features
Washington Center offers 'trip of a lifetime'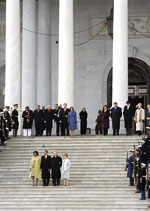 First Lady Michelle Obama, President Obama, former President Bush and former First Lady Laura Bush surrounded by Washington VIPs
For 10 days, two dozen students in The Honors College at MDC took part in a variety of events examining the intricacies of our government, world politics and the media.
Their trip culminated with the historic inauguration of Barack Obama as the 44th president of the U.S.
The students were participants in the Washington Center's Leadership Forum, a structured set of activities that give students opportunities to engage with distinguished speakers and learn about the ways in which they can contribute to their communities locally, nationally and internationally.
Around 800 students from more than 50 colleges in 48 states participated this year in The Washington Center program. Notably, Miami Dade College figures among the few community colleges represented.
The roster of prominent speakers included journalists Ted Koppel and Sam Donaldson; C-Span president and CEO Brian Lamb; and former White House Press Secretary Dana Perino, among others.
The students visited the Ukranian Embassy, toured the Capitol and the Newseum, and they met with U.S. Reps. Ileana Ros-Lehtinen, Mario and Lincoln Díaz-Balart, and Debbie Wasserman Schultz.
For Yuray Rodríguez, an aerospace engineering student at Wolfson Campus, the meeting with Mario Díaz-Balart left an indelible impression. Rodríguez arrived from Cuba by raft in 2005 after a previous failed attempt.
"We talked for about an hour and he answered most of my questions," Rodríguez said. "I took the initiative of inviting him to speak sometime at Wolfson Campus so the students can understand what I understood that day."
While in Washington, business administration major Ricardo Gidarisingh visited the admissions office at Howard University to inquire about the status of his application for admission. There, the Wolfson Campus student learned he had been accepted into the prestigious, historically black university.
The significance of attending the inauguration of the nation's first African-American president was not lost on him.
"When he was elected president, I believe that it was a wake-up call, especially for young men of diverse backgrounds, to really believe that success at any level is possible," Gidarisingh said.
Joseph Vithayathil, an economics major at Kendall Campus, moved to South Florida from Bangalore, India, a year ago.
"I am indeed blessed to be part of The Honors College," said Vithayathil, who attended the Salzburg Global Seminar in Austria. "I would never have the opportunities that I have today if it were not for this great school."
— Hector Pino
More Features Articles